Zachary Taylor Twelfth President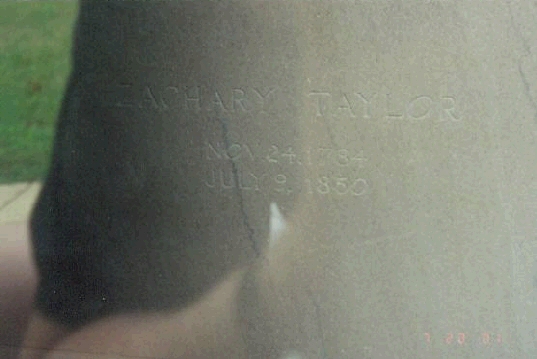 Close Up On President Taylor's Grave
| | | | | | |
| --- | --- | --- | --- | --- | --- |
| Name | Born | Died | Age | Buried At | Visit Done |
| | | | | Zachary Taylor National Cemetery Louisville, Ky | |
I was suppose to stop and see President Taylor's grave on my way home from Tennessee but do to time I was unable to stop and visit his grave. President Taylor had two burial place in the cemetery that is named after him. There is the place he is now and what looked like a holding vault. The cemetery he is in is just like Arlington National Cemetery with the way the graves and the markers are set up. In The 1990's his tomb was open up to see if he had been poisoned. I believe the test came back it was natural causes. It looks like you can see where the tomb was opened and sealed back up.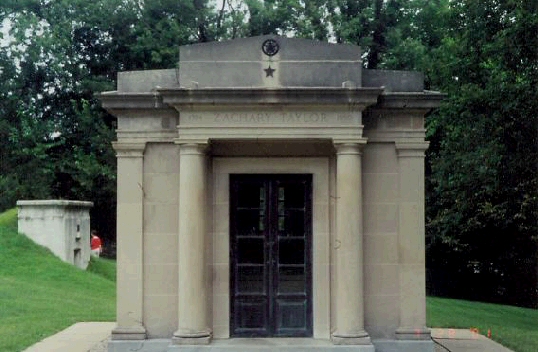 Front Of Zachary Taylor Grave
Facts For Zachary Taylor:
When Taylor was inaugurated in March 1849, he would not take the Oath of Office on a Sunday. The offices of President and Vice President were vacant at the time, so someone had to be the president, but who? David Rice Atchison, the President Pro Tempore of the Senate, was sworn in as president. He did not do much, when asked, he said, "I went to bed. There had been two or three busy nights finishing up the work of the Senate, and I slept most of that Sunday
Taylor's body was recently exhumed because some thought that his death was caused by murder instead of natural causes
Taylor spent July 4, 1850, eating cherries and milk at a ceremony at the Washington Monument. He got sick from the heat and died five days later, the second president to die in office
Abraham Lincoln gave the eulogy at his funeral
Nickname: Old Rough & Ready
Last Words: I am sorry that I am about to leave my friends.
Cause of Death: Heat stroke
Zachary Taylor National Cemetery