Ronald Reagan Fortieth President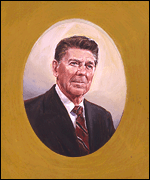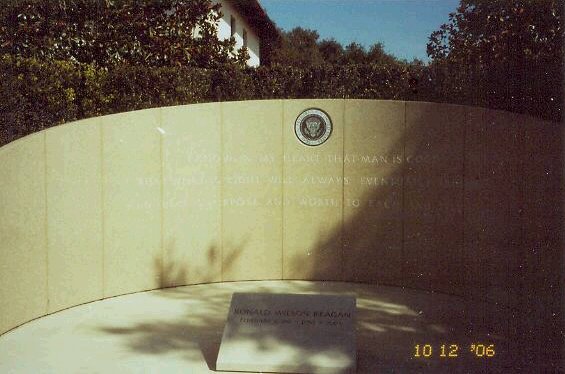 Ronald Reagan Grave
| | | | | | |
| --- | --- | --- | --- | --- | --- |
| Name | Born | Died | Age | Buried At | Visit Done |
| | | | | Ronald Regan Presidential Library Simi Valley, Ca | |
Ronald Reagan's Presidential Library is one of the more enjoyable ones. In 2005 they opened up the Air Force One Pavilion. It has the plane that he and 6 other President's used. They also put in a Marine One helicopter along with a Secret Service car and police car and motorcycle. In the library itself, they have some of the gifts that he got while in office along with some of the movie posters/outfits he used when he was a actor. There is the sweater and bullet proof vest he wore when he left the hospital after the assassination attempt. There are a lot of really interesting things in his library.
On the way to see family in Wisconsin, I stopped at Tampico Illinois to see where he was born. There is a bank where he was born. Not far from the bank is a early boyhood home. After the stop in Tampico I stopped in Dixon to see his boyhood home. After the video they showed in the visitor center, they said he got into trouble when he was throwing firecrackers off a bridge. He didn't know that a police officer had pulled up next to him and he got in trouble by the police when he said "Twinkle Twinkle Little Star Who The Heck Do You Think You Are" The fine was 14.85 which was almost the amount of the house payment. He has come back to the house in Dixon I think they said about nine times. The last time was in 1992.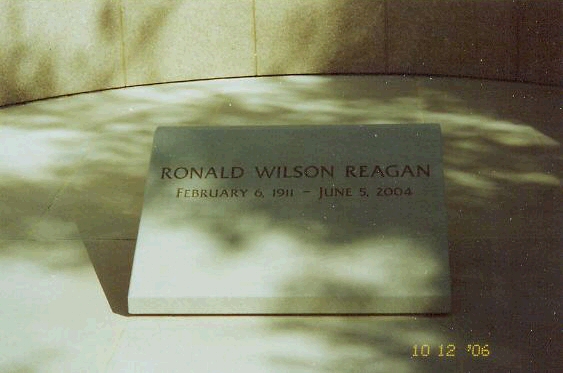 Close up on Ronald Reagan's grave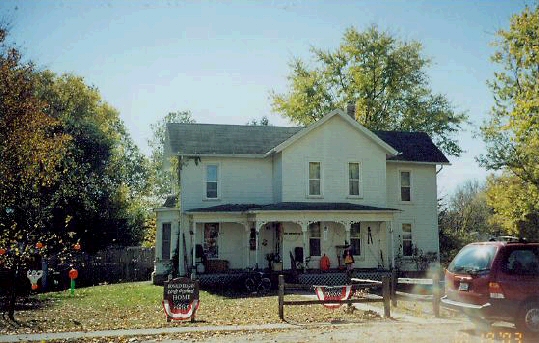 Reagan early boyhood home in Tampico Illinois
Historic Note:
On February 6, 2001 Ronald Regan was the third President to turn 90.
Facts About Ronald Reagan:
Reagan was the oldest president in history. He was 77 when he left office
Reagan was the first president who had been divorced
He was the only president to be wounded and survive an assassination attempt
Conforming to the provisions of the 25th amendment to the constitution, Reagan transferred all presidential powers to Vice President George Bush while he underwent surgery for cancer
The only U.S. President born in 'The Land of Lincoln' (Illinois) was Ronald Reagan. He was born in Tampico
Shortly after being shot, Reagan jokingly said, "I forgot to duck"
He was the first president to wear contact lenses
Nickname: Dutch
Last Words: Unknown
Cause of Death: Alzheimer's disease, pneumonia
Ronald Regan Presidential Library