Richard M. Nixon Thirty-Seventh President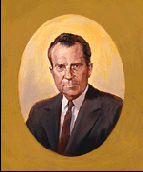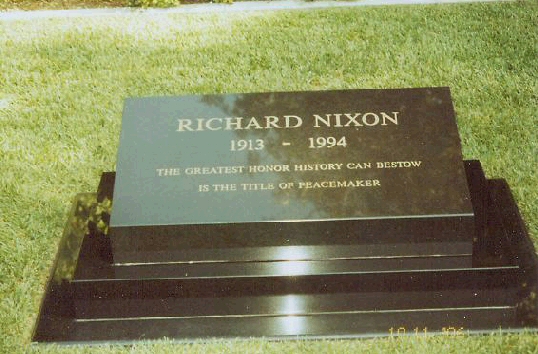 Richard Nixon Grave
| | | | | | |
| --- | --- | --- | --- | --- | --- |
| Name | Born | Died | Age | Buried At | Visit Done |
| | | | | Richard Nixon Library And Birthplace Yorba Linda, Ca | |
After landing in the Los Angeles airport and picking my rental car up, I went to see President Nixon grave. After paying to get into the library, you can watch a movie that they show every half hour or you can go thru the museum. If you want, you can go right to the grave and birthplace. Since I had about 25 min's or so before the next showing of the movie, I just went right to the grave and birthplace. The birthplace is right where it was when he was born and everything in the house is original. It was either after he moved or after someone passed away, but everything was put into storage and brought out and put back the way it was when he moved. Also on the library grounds, they have the helicopter that he used while in office and it was the same one that he used when he left office. It looks like it did when he left office. One of the exhibits that they have they showed items from his and Mrs. Nixon funeral. They have news coverage of his along with letters of get well after he had the stroke to letters after he had died. They also have one of the gun casing that they use for the 21 gun salute.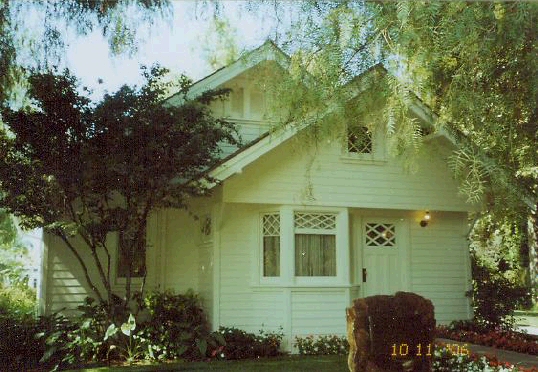 Richard Nixon Birthplace on the Nixon Presidental Library Grounds
Note:
Served as the thirty-sixth Vice President to Dwight D. Eisenhower from 1953 to 1961. Click here to learn more about Richard Nixon's Vice President bust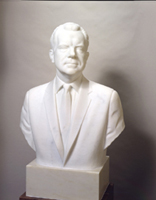 Facts About Richard Nixon:
Nixon was the first to address the Russians on Russian television
His Secretary of State, Henry Kissinger, won a Nobel Peace Prize
He had the White House swimming pool filled in to give the press more room to stand when covering White House events
He was the first president to visit China while in office
Nixon was the first president to visit all 50 states
He was our only president to resign from office. His letter of resignation was as follows: "Dear Mr. Secretary: I hear by resign the office of the President of the United States. Sincerely, Richard M. Nixon"
Nickname: Tricky Dick
Last Words: Unknown
Cause of Death: Pralysis (stroke), swelling of the brain

Richard Nixon Library And Birthplace